China has the world's largest population, and as any other population, the Chinese people need means of transportation. Therefore, they will soon get the biggest buses....so big that the other vehicles will go underneath the giant.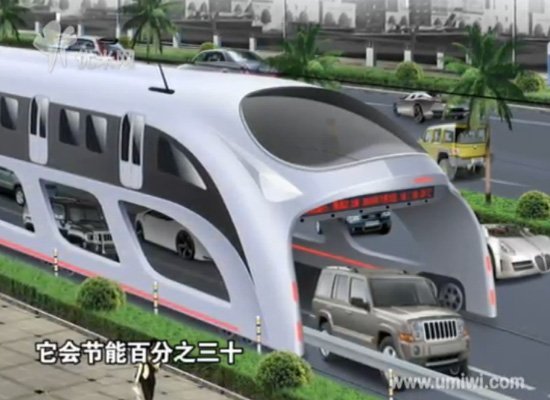 This concept is called
3D Express Coach
.
The bus will be 4-4.5 m high and could carry about 1200-1400 passengers.
The distance between the "floor" and the road would be about 2 m, so cars could easily get under. Trucks on the other hand will be detected upon approach and a warning would be emitted. The same thing will happen for cars getting too close to the wheels.
The "moving tunnel" will be passenger-fed through the doors in the ceiling.
The even better part is that the vehicle will be powered by electrical and solar energy for a top speed of 60 km/h; and their use would reduce traffic jams.
The less fun part starts here: the new bus will also need new adapted roads, because I find it difficult to see this one take a roundabout or a 90° turn. So all the routes have to be built, and this could be less environment friendly.
Anyway, it seems that the works for the first strip of road will start by the end of 2010, so with the Chinese determination the 3D will be ready to roll by 2012.